Our Mission
Murrysville Veterinary Associates' team of veterinary professionals provides a rewarding experience to our clients and patients while delivering exceptional state-of-the-art veterinary care. Within a fear free environment, we strengthen the pet-human bond with compassion and integrity.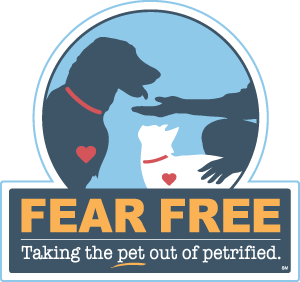 At Murrysville Veterinary Associates, we have created our space and established a culture centered on the animal's experience with the Fear Free concept at its core. Animal Arts architect Heather Lewis has designed Murrysville Veterinary Associates utilizing fear-free criteria including separate entrances and exam rooms for dogs and cats and a color scheme that is pet friendly.
The Fear Free initiative aims to "take the 'pet' out of 'petrified'" and get pets back for veterinary visits by promoting considerate approach and gentle control techniques used in calming environments.
Schedule your Fear-Free visit today!
We take the pet out of petrified. See the difference a fear-free vet can make for you and your pet!